A 20-Minute Low-Impact Barbell Workout to Strengthen Your Entire Body
This low-impact barbell workout builds up your butt, arms, shoulders, back and abs. Image Credit: FreshSplash/E+/GettyImages In case you need…
---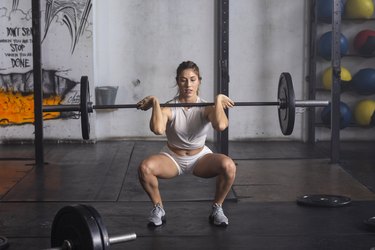 In case you need a refresher, low-impact exercises are those that put less stress on the joints — and most barbell moves keep both feet on the ground so there's less force that your joints need to absorb.
But low impact doesn't mean low intensity. In fact, barbell exercises can get your heart rate soaring and sweat dripping just as much as doing a set of burpees or jump squats. Because barbells are quite large (read: heavy), doing exercises with them for multiple reps and longer periods of time can be taxing. Plus, limiting recovery time between sets demands more effort from your body, making the workout more intense.
Try this 20-minute low-impact barbell workout to build up your muscles head to toe. Do each exercise for 60 seconds for 3 sets. Rest 30 to 45 seconds between sets for a higher-intensity workout or 60 to 90 seconds for a low-intensity workout.
20-Minute Low-Impact Barbell Workout