The 5 Best Home Gyms of 2021
The best home gyms now offer more exercise options as well as high-tech features. Image Credit: LIVESTRONG.com Home gyms are…
---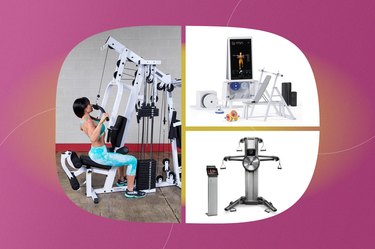 Home gyms are the pinnacle of at-home workout efficiency — especially if you love lat pulldowns, bench presses, cable machines and other typical (read: big) gym equipment.
"While a set of dumbbells or kettlebells is a great start to working out at home, an actual home gym allows you to perform the same movements you would while in the gym," says Jake Dickson, CPT, a certified personal trainer and USA Weightlifting advanced sport performance coach.
Many home units allow you to perform staple gym exercises like cable rows, pec flys and seated leg extensions. And others also integrate technology so you can virtually work out with a personal trainer or group fitness class right in your own home.
Still, there are a lot of units on the market, and many come with a hefty price tag. How can you be sure you're making the right investment?
Start with our handy list of the best home gyms of 2021.
1. Best Value: Body-Solid StrengthTech EXM2500S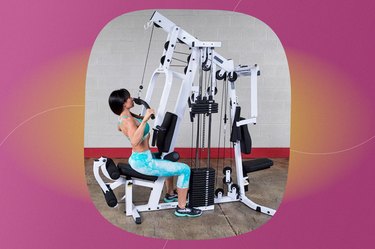 ​Measurements:​ 51″ width x 83″ depth x 83″ height
​Features:​ pec and fly station, cable pulleys (high, mid, and low), leg extension and curl, lat pulldown, tricep extension and pushdown and leg abduction
This home gym offers a ton of bang for your buck, which is exactly why James Jackson, CPT, a certified personal trainer at Critical Body, frequently recommends it to clients looking to outfit their at-home workout spaces.
It features two stations, and both give you the ability to perform plenty of gym-grade exercises.
One side has a chest press, while the other has a pec fly that doubles as a rear delt trainer. The machine also includes a lat pulldown bar (with a padded leg holder to keep your lower body in place), three cable pulley positions (low, mid, high) and a leg extension/curl set-up.
​Buy it:​ Amazon.com; ​Price:​ $1,695
2. Best Smart Gym: Tempo Studio Pro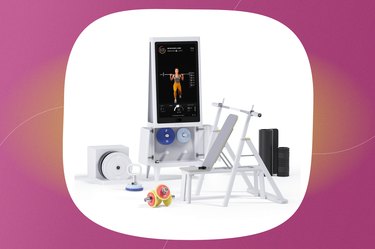 ​Measurements:​ 72″ width x 120″ depth x 72″ height
​Features:​ HD touchscreen, Bluetooth-enabled stereo speakers, workout mat, dumbbells, bench, squat rack, 25-pound barbell, heart rate monitor, roller, weight plates, collars and kettlebell system
If you're a tech fan, opt for a home gym powered by artificial intelligence (AI) technology.
The Tempo Studio Pro features a sleek, 42-inch touchscreen display, stereo speakers and an assortment of at-home workout equipment: a folding bench and squat rack, 25-pound barbell, heart rate monitor, recovery roller, more weight plates and collars, kettlebell system (that transforms your weight plates into kettlebells) and extra weight plate storage.
Plus, it includes workout programs that you can do live or on-demand. What's even better is that the 3D sensors capture your movements as you work out, and then the AI tech corrects any form mistakes in real time, helping you prevent injury and make your workouts more effective.
"As a trainer, I'm usually rolling my eyes at the stuff that's out there for home fitness, [but] Tempo does it right," says Tami Smith, CPT, certified personal trainer and owner of Fit Healthy Momma.
This sleek, minimalist smart gym is also a compact space saver/ While during workouts, it expands to fit a 6′ x 10′ space, when not in use, it only takes up 4′ 2″ x 1′ 4″. The freestanding design features space to store all your equipment when it's not in use. "I have my Tempo right in my living room and it's not bulky or unsightly in the least," Smith says.
​Buy it:​ Tempo.fit; ​Price:​ 3,995
3. Best Compact: Bowflex Xceed Home Gym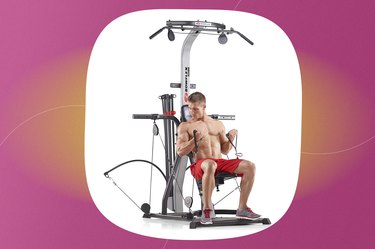 ​Measurements:​ 49″ width x 53″ depth x 82″ height
​Features:​ cable pulleys, adjustable seat, squat bar, lat bar, vertical bench press, leg extension and curl
This compact home gym under $1,000 is the cheapest on our list, but it doesn't skimp on features. "The Bowflex allows you to perform lat pulldowns, leg extensions, pull-ups, chest flys and biceps curls without the need for bulky weight plates," Dickson says.
However, if you're used to slinging hundreds of pounds, you may need to have your machine reconfigured. The standard configuration only allows for 210 pounds of resistance, but you can have it rejiggered to handle up to 410 pounds.
​Buy it:​ Amazon.com; ​Price:​ $749.99
4. Best Cable Machine: NordicTrack Fusion CST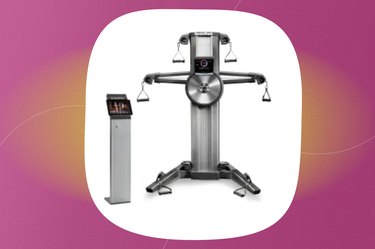 ​Measurements:​ 60.5″ width x 41.5″ depth x 73.5″ height
​Features:​ HD touchscreen tablet, 1-year iFit membership, 20 resistance settings, 6 cable attachments, 2 squat pulleys, 2 ankle strap accessories, adjustable tablet and smartphone stand
"Cable units for all-in-one home gym use are some of the best units on the market today," says Ashton Ferrazzo, owner of Freedom Fitness Equipment. And this gym is no exception.
Instead of bulky weight plates or dumbbells, this machine uses a series of cables attached to a flywheel to provide different levels of silent, seamless resistance.
"Flywheels are the next generation of resistance training," he says. Instead of lifting a weight against gravity, flywheel devices take advantage of inertia: the harder you pull, the more it resists. The more it resists, the harder you have to work to control the resistance at every stage of a rep.
But the real star of this machine might be the integrated HD touchscreen tablet, which allows you to stream live, interactive sessions with a personal trainer through the online fitness platform iFit. (Your purchase includes a 1-year membership.)
You'll also have the ability to track your progress, set goals and score advice on exercise, nutrition and sleep. Use the Bluetooth chest strap included with the gym to track your heart rate every workout.
​Buy it:​ NordicTrack.com; ​Price:​ $1,899
5. Best Luxury: Force USA G12 All-in-One Trainer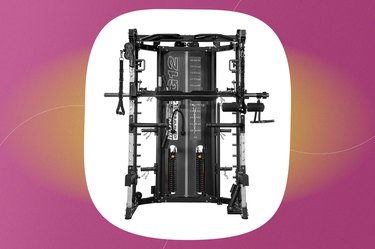 ​Measurements:​ 79″ width x 49″ depth x 89″ height
​Features:​ power rack, cable pulley, Smith machine, multi-grip chin-up station, dip station, leg press, lat pulldown, landmine station and weight stacks
"While on the higher-end of all-in-one home gym units, this piece mimics a power rack setup that traditional powerlifters would use while providing the benefits of a Smith machine (a barbell fixed to a steel rack), cable machine and squat rack in one fairly compact footprint," Ferrazzo says.
It also includes a chin-up station with a variety of knurled grip positions, which allows you to tackle wide-grip, close-grip, underhand and overhand variations. Add-ons like a suspension trainer, Olympic barbell and exercise bench make the machine even more versatile.
​Buy it:​ ForceUSA.com; ​Price:​ $4,999
5 Factors to Consider When Shopping for an All-in-One Gym
Consider what types of workouts you enjoy and what exercises you do — or plan on doing — on a regular basis.
Also, think about what type of equipment you prefer or feel comfortable using at home, including cable machines, barbells and leg extension and curl machines.
Filling in these blanks will help you narrow your search.
Take inventory of any equipment you already have.
"For example, if you already have a wide selection of dumbbells or other weights, you might not want to buy a home gym that includes weights," Smith says.
Review your finances and decide how much you're willing to spend on an at-home unit — and how you plan to pay for it.
"Keep in mind that almost every home gym has the option to finance the cost if [you're] qualified," Smith says.
If you're new to the home fitness scene, Ferrazzo recommends starting with budget or mid-tier options. Progress into higher-priced units once you've been working out with your equipment consistently. Otherwise, you could end up with a bulky (and expensive) coat rack.
4. Subscriptions and Add-ons
Once you find a unit you like, check for any subscriptions or add-ons associated with it.
For example, some pieces of equipment include a monthly subscription for an online fitness platform (like the NordicTrack).
Consider whether you want the service, and if not, whether you can still use your unit if you choose not to pay for the it, Smith says.
"Check the dimensions of the home gym before buying it and make sure that you have the space to accommodate it," Smith says. This may seem like a no-brainer, but you'd be surprised how many people just eyeball their space and call it good.
Also, if the machine needs to be fixed to a wall, ensure that the wall you're using is properly studded to support that weight, Smith says. If you're a renter, make sure your landlord is OK with the installation.