The Best Dumbbell Exercises for Biceps
Looking to strengthen and sculpt your biceps? Dumbbells are the way to go. Image Credit: Brand X Pictures/Stockbyte/GettyImages When you…
---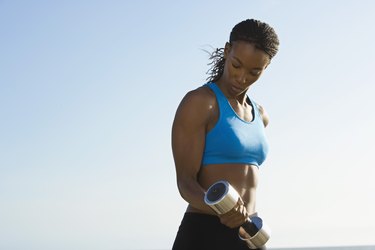 When you ask someone to flex, you'll watch them raise their arm and flash their biceps. Given the fitness world's adoration for this muscle group, it's no shock that there are tons of biceps exercise variations out there.
Whether you choose to play with negatives, isometric holds or drop sets, you'll need to start with a few fundamental moves. On your next arm day, Mathew Forzaglia, certified personal trainer and founder of Forzag Fitness on the NEOU App, recommends you give these dumbbell exercises a try.
Tip
Make this move even more effective by making it a concentration curl. It recruits the most muscle and promotes the most muscle growth, according to a study by the American Council on Exercise.
Place your right elbow against the inside of your right thigh, arm fully extended. Leaning forward a bit, curl the weight up toward the right side of your chest, using your leg to keep the elbow in place.
Tip
You can make the alternating curl more challenging by performing the exercise either kneeling or seated and slightly reclined. These positions prevent you from using the momentum of the weight (a common biceps curl mistake) to raise it up, making the move more difficult.