The Best, Most Underrated Arm Exercises
Holding your chin ups at the top of the move will help build more strength. Image Credit: Tara Moore/Stone/GettyImages When…
---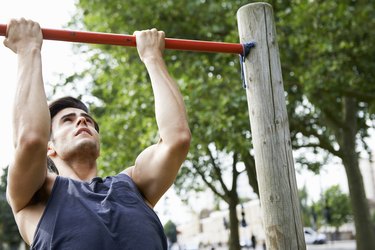 When your regular arm workout involves just a few biceps curls and some shoulder presses, your routine can get boring pretty quick. Plus, you probably aren't seeing the results you're hoping for.
Instead, opt for a few underrated exercises that New York-based physical therapist Sam Chan, DPT, CSCS, guarantees will sculpt your arms in no time. During your next upper-body session, give these five moves a try.
Tip
If this exercise feels too challenging, you can modify by kneeling or sitting down on a bench, Chan says.
Tip
You can make engage your core even more by holding weight on one side alone, Chan says. Or, instead of dumbbells, hold weight plates or kettlebells to also work your grip and forearm strength.
Tip
While you do this exercise, brace your core to keep the kettlebell in the upright position.